Post by 8real on Aug 11, 2006 3:40:29 GMT -5
The letter/paper I am talking about during this blog can be found here.
www.scholarsfor911truth.org/ArticlAluminumGlows_1Mar06.html
Well, it seems like the Scholars for 9/11 Truth are bumping heads. I am not taking anything away from Judy Woods' work. I just feel that she is doing 1 of 3 things with her latest open letter to Steve Jones. One, she is making a honest mistake. Two, she is deliberately trying to debunk some of Steve Jones paper to HELP his argument. Three, she could be trying to draw attention away from the significance of Professor Jones paper. Unfortunately, I happen to believe the latter is what is going to happen. Not sure what her intentions where though....
Let me dive into why I would say that. The title of the letter/paper is "Aluminum Glows" Which right off the bat tells me what she wants to prove.

And that is that "Aluminum Glows". Since I have been following this movement pretty close, I am wondering why Judy would make it sound like, Steve Jones said "aluminum does not glow". When in fact, he has repeatedly said the exact opposite.
Professor Jones has said aluminum will glow, but at extreme temperatures. So, if it was aluminum, it would of had to stay under extreme temperatures until it poured out of the tower, to keep the red hot "glowing" appearance. Some people have suggested that the plane crash could of created "valleys" in the floor that acted like a "pot" that held this "molten aluminum". But that is another debate in itself.
Now, after hearing todays interview(Thu., August 10, 2006
mp3.rbnlive.com/Fetzer06.html
) of Steve Jones, I did some google image searches, with the words "molten aluminum" and "pouring aluminum". I turned up hundreds of photos and even came across a few home made videos.
Some show aluminum with the "appearance" of red hot and glowing, but after hours of examining photos and videos, I know exactly what Steve Jones was/is trying to say about these 2 photos that Judy references in here letter.
OK, the first thing Jones tried to point out, was the "molten metal" on the
ground
. The reason I call it "molten metal", is because I agree with Steve Jones and don't know what it is, but I do not believe it is "aluminum". I'll explain why.
This next picture shows what aluminum looks like, when it is on the ground, or a box of sand in this case.
Again, you can not look at aluminum that is in or on a red hot container/surface(like what Judy did). There are plenty of photos that show what I am talking about. Here is a short 12 second video that shows what molten aluminum looks like as it is being poured.
www.youtube.com/watch?v=gge5NyqoNIQ
Don't look at the fire, or inside the pot. Look at the molten aluminum that is "flowing" ...it is not "bright orange".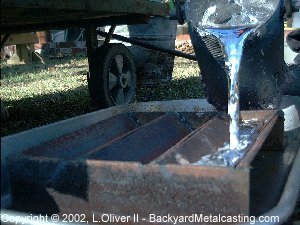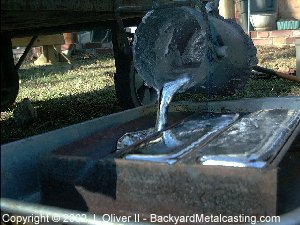 Now, I could of ended my research there and been happy. But I decided to look for a place that showed multiple different types of molten metals. Here is what I came up with.
Pouring Aluminum.
Pouring Brass
Pouring Bronze
Pouring Cast Iron
source:
www.foundry101.com/What%20does%20pouring%20look%20like.htm
After examining these pictures, you can get a idea of the color difference between something that is "glowing and silvery" versus "bright orange"..
Now, I wanted to address the other picture that Judy referenced. It is a bit deceiving because the aluminum is not "flowing" and is inside a "container". What troubles me the most is, that the "container" is a actual furnace! Of course a furnace is going to give off a glow.....
If you browse around the same site, they show other furnaces that are letting off a bright orange glow. Does that mean aluminum is making the furnace glow?
I am suggesting that the fire(or heat source) in the furnace is what is letting off such a strong "glow".
Here is a example of what I mean about a furnace contributing to the "glow". The first picture shows what the aluminum looks like while it is inside the furnace, and the second picture shows the molten aluminum flowing out of the very same furnace...
source:
the.honoluluadvertiser.com/article/2006/Feb/18/bz/FP602180326.html
I am no expert, but a simple experiment would probably verify what Jones is saying. He makes it VERY CLEAR that it has to be "daylight conditions", "flowing" and of course "it" has to be aluminum